San Marcos Properties Alert: Register with the City
Date posted
January 22, 2021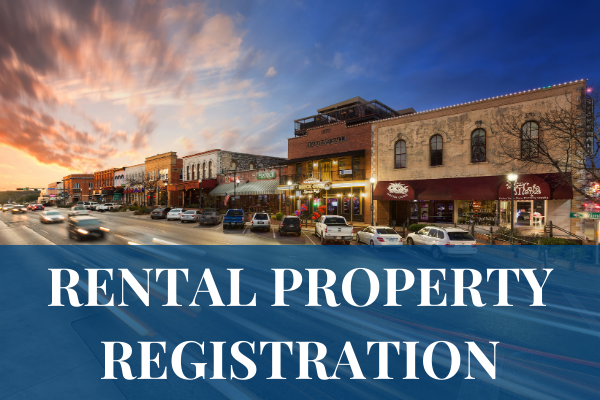 The City of San Marcos has a no-fee, no-inspection rental property registration program and all rental property must now register.
The San Marcos Neighborhood Enhancement Department is actively reminding owners of rental property located within the City limits that as of January 1, 2021, they are required to register their properties on an annual basis. Registration may be completed online at www.sanmarcostx.gov/rental. 
The registration program was passed in April 2018 and up until January 1 this year the city allowed voluntary compliance. Although there are no fees or inceptions a property could have its registration suspended for dangrouse and/or substandard property conditions.  Full language included in the ordinance may be found here: San Marcos City Ordinance Sec. 34-821.  
Registration applies to most all short-term and long-term rentals located within City limits.  The city's stated purpose of the requirement is not only for the health, safety and welfare of the property and its occupants, but also to help expedite the identification and notification of owners when addressing building codes, complaints and property maintenance.
Since an approved registration is required before operation of any short-term rental and before the rental of any long-term unit for a continuous period of 30 days or more, property owners are encouraged to expediently complete their registration.  Rental properties that are not registered with the City may be subject to enforcement action. 
For more information, contact Tiffany Harris, Community Vitality Coordinator, at 512.393.8443 or tharris@sanmarcostx.gov.  or AAA staff at paul@austinaptassoc.com