Back to Events
Strengths-Based Leadership Webinar + Workshop
Workshop plus FREE webinar
Thursday, October 19, 2023
Event Details
Presented by: Stephanie Puryear Helling, CAPS, CAM
Strengths-based Leadership Webinar Details. (AAA will send you the webinar recording before you attend the workshop)
The Webinar will provide an overview and statistics of Strengths Based Leadership and what followers need most from their leaders.
After the webinar, participants will receive a code and link to complete the Strengths Finder Assessment in advance of the workshop. Results will be sent to each participant, as well as to SPH Services for review prior to the workshop. Participants should bring their results to the workshop.
Strengths-based Leadership Workshop Details: Thursday October 19th from 10am-4pm at Texas State University
In this 6-hour workshop, participants will:
• Gain more self-awareness.
• Know more about the strengths of others.
• Begin to think about using their and others' strengths to build a strengths-based team culture.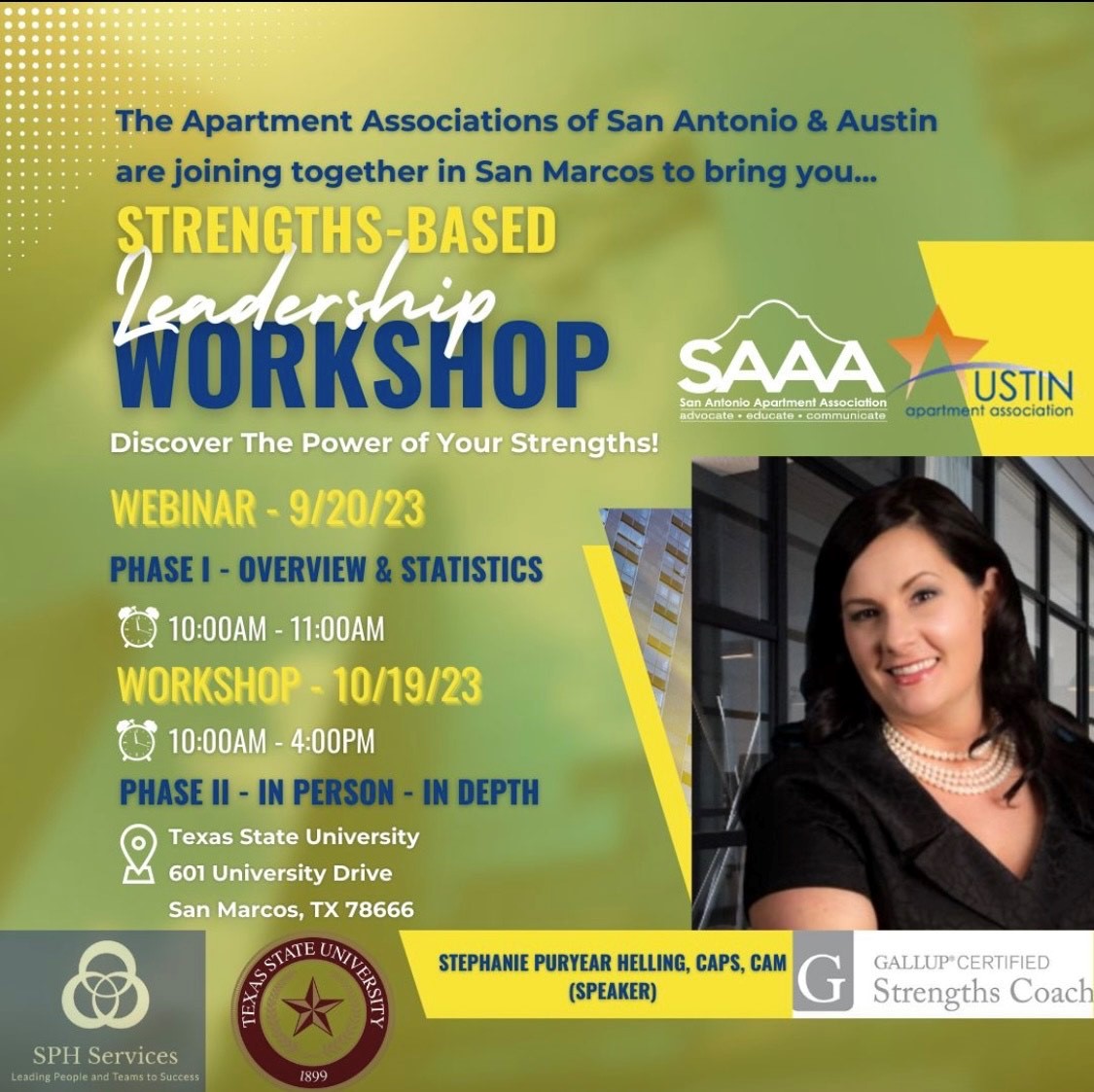 Not eligible for ACE pricing
Not eligible for Continuing Education Credits (CECs)
COURSE GOOD FOR EDUCATION TRACKS:
For More Information:
Tatiana Marchizano
Director of Education
Austin Apartment Association
(512)323-0990
Why Is Strengths-Based Leadership Important?
A strengths-based approach can benefit your leadership and your team's performance in several ways. Our strengths define who we are. They make us unique. The surprising part is many people do not know their strengths and others do not effectively use them.
To the extent we can use our strengths, people are six times more likely to be "engaged" in their jobs and more than three times more likely to declare they have an "excellent quality of life in general," according to research from the Gallup organization. Yet often feedback focuses on our weaknesses and what we don't do well. Instead of telling your team members what they are doing wrong, (which, even if true, could be demoralizing), a strengths-based approach focuses on what a team member does best, and deals with weaknesses with a positive spin, which is more impactful.
Gallup scientists have turned toward the study of leaders and managers to discover what the best leaders have in common and how to develop those leadership attributes. They studied 1 million work teams, conducted 20,000 detailed leadership interviews, and over 10,000 individual contributors to find their answer.
Austin Apartment Association is proud to partner with San Antonio Apartment Association to bring you this unique opportunity!