Food Drive Crew 2020
2020 marked the 34th year of raising funds to provide Thanksgiving meals to Austin-area residents!
HOORAY...

We surpassed our 2020 goal!

Thank you ALL for volunteering your time to help make that happen... You are all amazing! 
Important Info for Soliciting Donations
Sometimes businesses need proof of our non-profit status as well as our connection to the Austin Community Foundation (our fund's administrator). Click on the buttons below for links to important paperwork you may need.
---
Marketing Materials

DOWNLOAD THE FOOD DRIVE LOGO & MARKETING MATERIALS
Feel free to download the food drive logo to use in your email signatures, websites, social media, and other correspondence and help promote this year's food drive! Download event flyers to hand out to your clients, at properties, and to post on social media.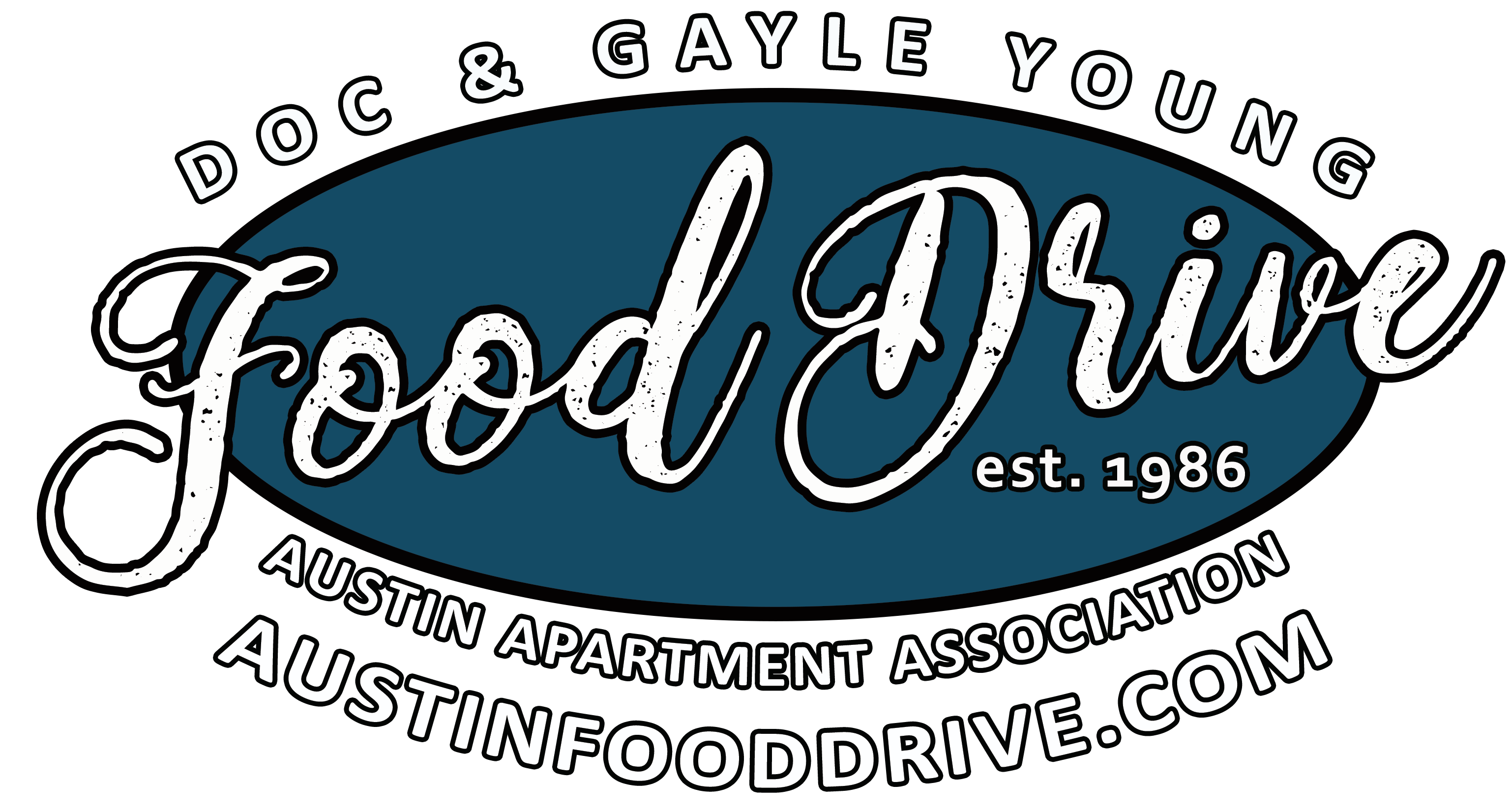 ---
History and Talking Points
History
First food drive held in 1986 with $600 in total donations. 

We've raised more than $935,000 in 34 years.

Over 25,000 Austin residents have received food packs from the Doc & Gayle Young Food Drive since 1986. Food pantries in 11 counties surrounding Travis have received $20,000 in financial donations from our food drive.
Food Drive FUNdraisers
Each year, the Food Drive Crew organizes fun events for our AAA members, proceeds of which benefit the Food Drive. These events will be virtual FUNdraisers in 2020. 
Food Drive Talking Points
Hello,
I'm calling on behalf of the Austin Apartment Association's Doc & Gayle Young Food Drive. Are you familiar with the food drive?

If not familiar…
The food drive is celebrating its 34th year in 2020!
Our goal this year is to raise $25,000
During the food drive season in years past, volunteers have raised money to purchase Thanksgiving food packages, which include a turkey and all of the trimmings so a local family can enjoy a full traditional Thanksgiving dinner.

This year, due to COVID-19, we are donating ALL

 

FUNDS raised to our four partner organizations (Housing Authority City of Austin (HACA), Texas Dept of Family and Protective Services - Rainbow Room, Foundation Communities, SAFE Alliance, and Austin area food banks)
All of the money is raised by volunteers so every dollar raised can be donated.
All donors receive recognition in the Apartment Association's Window magazine. Are you interested in donating to the food drive?
If they want to donate…
IF YOU WISH TO CONTRIBUTE THIS YEAR, I can take your credit card info over the phone right now.
You can donate online by going to www.austinfooddrive.com.
Sending your check to the Austin Apartment Association office at 8620 Burnet Rd. #475 / Austin, TX 78757 (make check payable to AAA Food Drive)
We request that all donations be in the office no later than Friday, November 13th by 5:00 p.m.
If they say they've already donated…
Thank you so much for donating! Just know that, with your help, we hope to feed over 1,350 local citizens this year. Thanks again.

If they are not interested...
I certainly appreciate your time. Thank you and please think of us during next year's drive. We also need volunteers both to serve on our committee and to help distribute the food on the Tuesday before Thanksgiving. Would you be interested in attending an upcoming food drive fundraising event?
---
Who Receives Our Help & How Much Does Each Organization Receive?
Collected funds will go directly to the following organizations, and the amount allocated is based on the percentage of food packs they received in 2019:
Housing Authority City of Austin (HACA) - 850 food packs = 60% = $15,000.00
Texas Dept of Family and Protective Services - Rainbow Room - 350 food packs = 25% = $6,250.00
Foundation Communities - 100 food packs = 5% = $1,250.00 
SAFE Alliance- 50 food packs = 4% = $1,000.00
Food Banks - 6% - $1,500.00
How to make a donation?

We accept cash, checks, money orders, and credit cards.
Make checks payable to the Doc & Gayle Young Food Drive.
Submit donations to:
AAA c/o Food Drive
​8620 Burnet Rd. #475
Austin, TX 78757