Days of Care (D.O.C.) Drive
2023: This year marks our 37th year of raising funds to make a difference for Austin-area residents!
New Era, Same Heart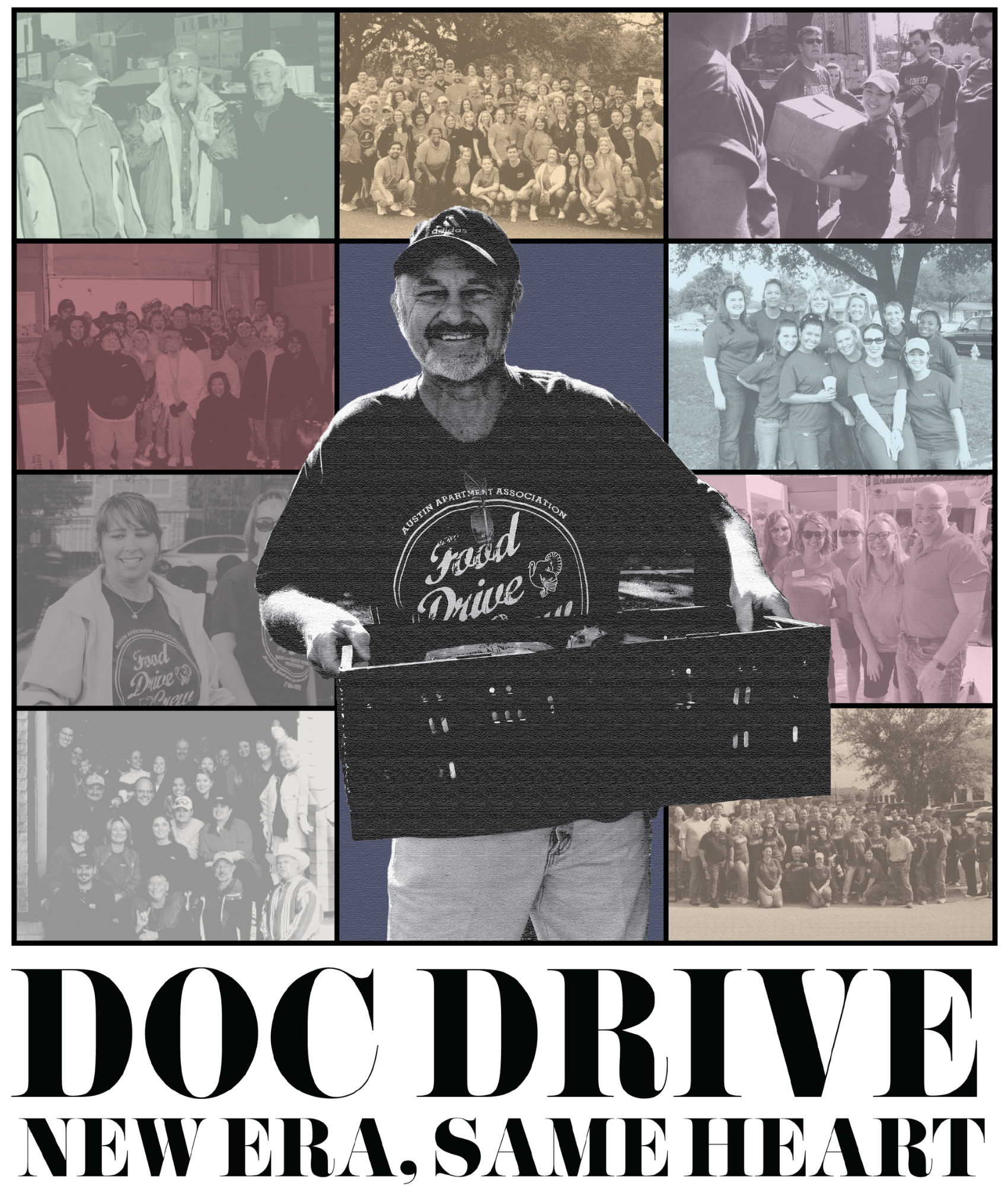 New Era
The Austin Apartment Association is thrilled to unveil the transformation of our annual Doc & Gayle Young Food Drive into the Days of Care (D.O.C.) Drive. This rebranding comes with a renewed dedication to better meet the needs of our nonprofit partners and the communities they serve.
After meeting this Summer with our Food Drive partners, the Housing Authority for the City of Austin (HACA), the Texas Department of Protective and Regulatory Services Rainbow Room, SAFE Alliance, and Foundation Communities, it was attested that the wants and needs of their community recipients have also changed.
Hence, our focus has shifted from physical food packs to empowering them with other food support such as grocery gift cards, and restaurant gift cards.
Our Community Service Committee also spoke with several smaller-sized county food banks and realized the dire need for essential household items such as toilet paper, laundry detergent, dish soap, and many other vital necessities for a home that are typically overlooked during a holiday season drive.
Essential items such as paper towels, paper plates, toilet paper, dish soap, and various other vital supplies are now among our priority donations.
As we step into this new era of care and compassion, we invite you to join us in making a lasting difference in the lives of our neighbors and community members. Together, we can be the change and uplift the hearts and homes of those in need.
---
Same Heart
Here at the Austin Apartment Association, we are embarking on a bold mission to address a forgotten need and make a meaningful impact on our community. As we introduce Days of Care (D.O.C.) Drive for 2023, we are thrilled to announce this year's care initiatives will be three-fold:
1 – Gayle's Givings of Household Essentials
NEW! This year the D.O.C. drive will also include a household essentials drive that will complement our other efforts. Gayle's Givings is in honor of Gayle Young, wife of our beloved Doc Young. The AAA will be accepting donations of items such as paper towels, paper plates, toilet paper, dish soap, and various other essential household supplies to ensure that we cater to the critical needs of our community members.
2 – Grocery, Food Gift Cards
This year, we are setting our sights higher than ever before, with a visionary goal of raising $55,555 to support those in need through our traditional fundraising methods. Our passionate members, the cornerstone of our success, will lead the charge, as we channel their unwavering support towards a heartwarming mission: providing grocery gift cards to 1,300 families in the Greater Austin area.
3 – Volunteer Efforts
But our commitment doesn't stop there. The AAA Community Service Committee is proud to stand alongside local food banks during their busiest periods. Through hands-on volunteer service, the D.O.C. Drive 2023 will mobilize our dedicated volunteers to support the operational volunteer needs of these crucial organizations in our local communities.
---
37 Years of Care
What started as a humble initiative back in 1986, spearheaded by volunteer Steve Cartelli with $600 in total donations, has blossomed into an extraordinary annual fundraising event that has raised over $1,000,000 since its inception 37 years ago. The impact of the drive has been nothing short of remarkable, with over 24,350 Thanksgiving Food Packs distributed to grateful Austin residents over the years. Additionally, food pantries in 10 counties surrounding Travis have received a total of $15,600 in vital financial contributions.
At the heart of this incredible journey is AAA volunteer member Michael "Doc" Young, whose tireless dedication and leadership guided the committee from 1987 until his well-earned retirement from the role in 2012. Today, carrying on this legacy of care and compassion, the 2023 D.O.C. Drive is skillfully led by the dynamic team of Terri Needham, Taryn Merrill, Dedra Bouffard, and Samantha Sandoval, ensuring that this cherished tradition continues to uplift the lives of countless individuals and families in our community.
---
How to Get Involved
1 - Donate!
100% of collected funds go towards direct support for residents with our nonprofit partners in Austin and the surrounding area.
Make your online donation to the D.O.C. (Days of Care) Drive today!
All donations are made through the Austin Apartment Association and are tax-deductible to the extent allowed by law.
Make checks payable to:
Days of Care Drive

Submit donations to:
Austin Apartment Association Education Foundation, c/o D.O.C. Drive
​8620 Burnet Road, #475, Austin, Texas 78757
Donations are accepted online and via check made payable to the Days of Care Drive
2 - Attend!
Each year, the Austin Apartment Association hosts a series of special FUNdraising events as part of the annual Days of Care (D.O.C.) Drive. Join us at an upcoming event and support the cause!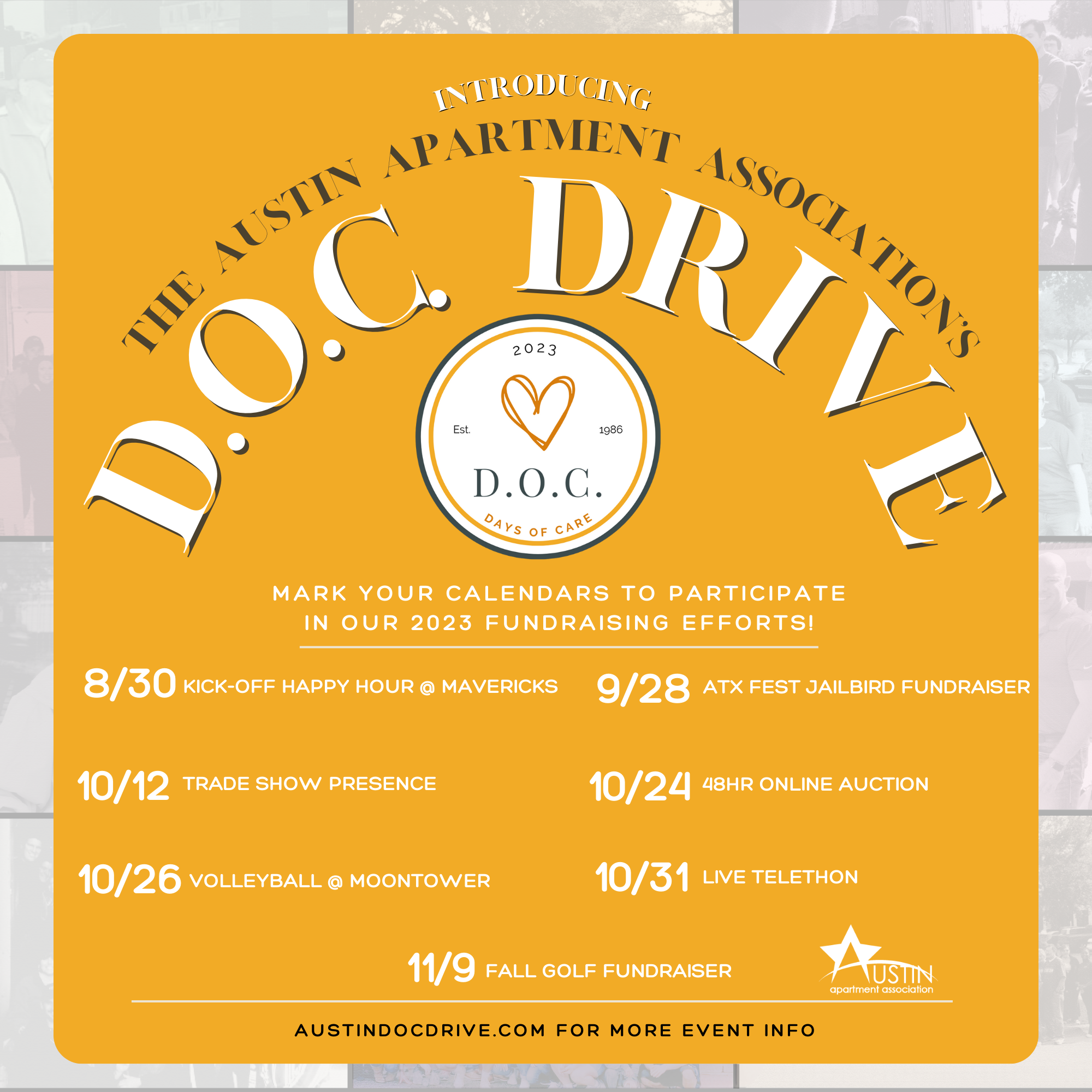 Click Here for the Days of Care Drive Events Calendar
3 - Volunteer!
If you are interested in volunteering to support our fundraising efforts or with hands-on service with the local food banks, please email Hamid Yazdanpanah-Salazar.
4 - Plan!
Our Community Service Committee meetings focused on the D.O.C. Drive begin in the summer to help plan out the annual campaign and the special events. Join us for one of our upcoming meetings and help us reach our goal!