Quick Resources
Below are some of the most frequently requested legal resources.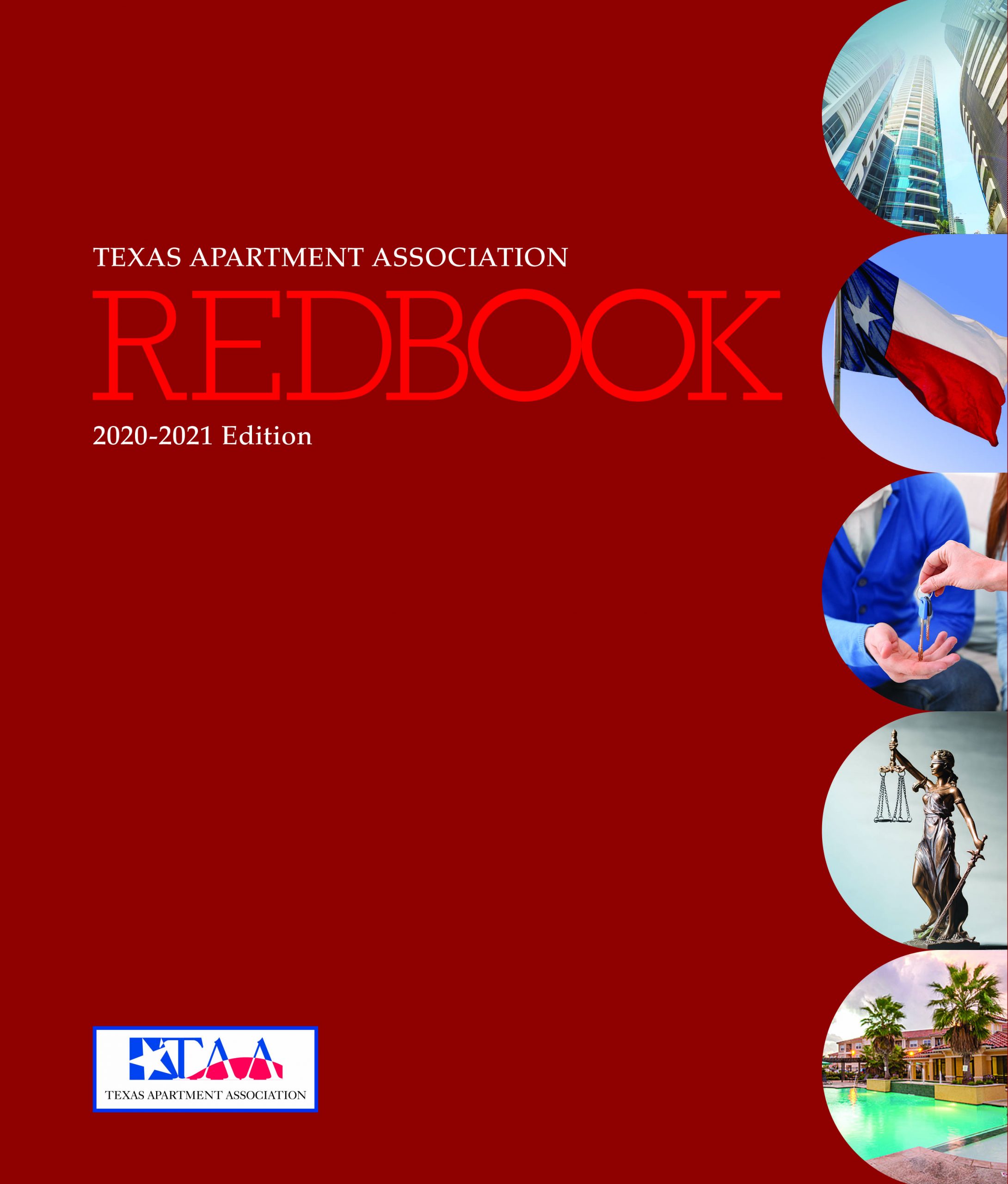 Texas Apartment Association REDBOOK
The REDBOOK is the essential source for owning and operating rental property in Texas. The REDBOOK is updated every other year - the 2020-2021 edition is available two ways - either online or hard copy.
TAA Click & Lease users
If you use TAA Click & Lease powered by Blue Moon, simply login to your lease forms software application and then access the online REDBOOK.
Not a Click & Lease user? No problem! AAA members can subscribe to the online REDBOOK for an annual fee. E-mail Glenda Holmes at glenda@taa.org to purchase the online REDBOOK.
---
Apartment Community Engagement (ACE) Voter Registration Program
The Office of the Travis County Tax Assessor-Collector & Voter Registrar in conjunction with the League of Women Voters and the Austin Apartment Association has developed the Apartment Community Engagement (ACE) Program to better serve the unique voter registration needs of apartment community residents in Travis, Williamson and Hays Counties.
When you become an ACE Program participant you will be better equipped to offer a wide range of voter registration activities. You can choose to include postage-paid a Texas Voter Registration Card and informational pamphlets in your welcome and move-out packets, obtain digital voter registration and engagement PSAs for you to share with your residents on social media, newsletters or e-mail, host on-site voter registration drive, and other voter engagement activities. You decide which services to offer. Engage today!
---
City of Austin RENT 2.0 - Rental Assistance Program
Austin renters who have experienced an income loss due to COVID-19 are encouraged to apply for the next random selection for the Relief of Emergency Needs for Tenants (RENT) Assistance Program.
The RENT program provides direct rental support for up to three months for income-eligible Austinites who can demonstrate a COVID-19-related income loss.
Random selection drawings will be conducted periodically over the coming months through the end of the calendar year, or until the $12.9 million is expended. All applications, regardless of when they are submitted, will be given equal chance in the selection process.
RENT 2.0 INFORMATION AND RESOURCES
---
City of Austin Project Connect
Project Connect is a comprehensive transit plan with a rail system that travels under downtown to improve on-time performance. It would also provide expanded bus service with an all-electric bus fleet.
A ballot measure for the Project Connect Initial Investment will be on the November 2020 ballot. It was a collaborative process between the Capital Metro board and the Austin City Council that resulted in the Initial Investment portion of Project Connect being put before voters this year.
Our Mobility Our Future – the group formed to opposed Project Connect.
TransitNowATX – the group formed to support Project Connect.
---
Austin Energy Multifamily Reqiurements and Rebates
Multifamily properties must conduct a specialized energy audit the year the property turns 10 years old, and you must make Energy Audit results available to potential and current residents. Unless your property is a High Energy Use property, ECAD does not require that you make energy efficiency improvements. However, if you want to make energy efficiency improvements based on your audit results, Austin Energy provides rebates and other incentives to make upgrades.
---
NOT FINDING WHAT YOU NEED?
Let us know if you need assistance finding information from your city government. Contact
Paul Cauduro
or
512-323-0990