EdgeCon
Gain your professional edge at Austin Apartment Association's first annual Education Conference!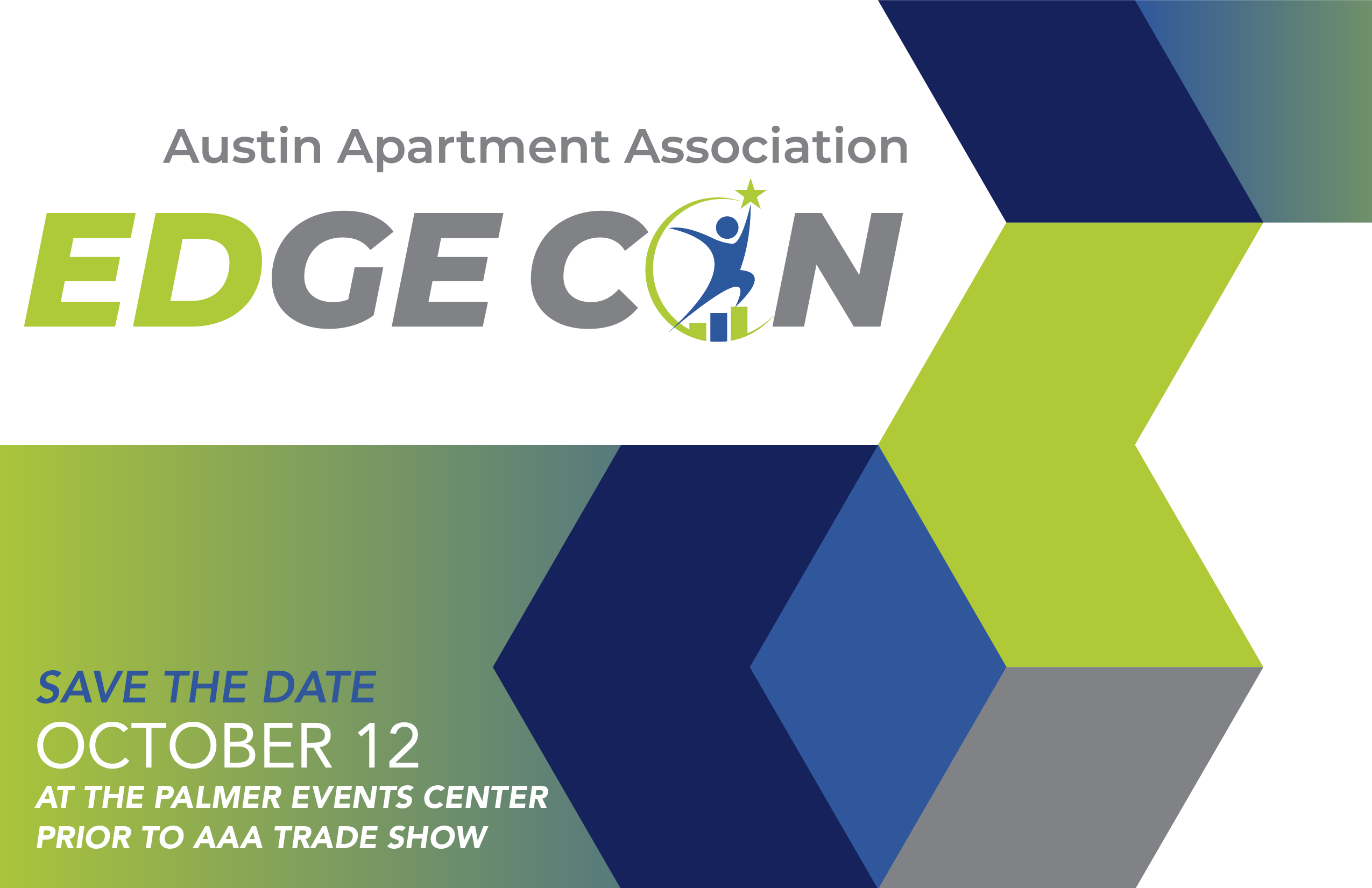 Gain a professional edge at AAA's inaugural education conference, EdgeCon! Join us for an enlightening and empowering event that will set you apart in your field.
Experience a dynamic lineup of renowned speakers, industry experts, and thought leaders who will share their insights and strategies for success. Dive deep into emerging technologies, best practices, and cutting-edge trends that will give you a competitive edge in today's rapidly evolving multifamily landscape.
What's even better? You can seamlessly attend both EdgeCon and the Trade Show without any interference! EdgeCon is strategically scheduled before the Trade Show at the same convenient venue! Maximize your time, network with industry experts, and explore the latest products and services all under one roof. ️
Don't miss this exclusive opportunity to sharpen your skills, build meaningful connections, and make the most out of your time at the Austin Apartment Association's EdgeCon and Trade Show!
Join us at EdgeCon - Where Your Professional Edge Takes Center Stage!
---
Sessions
For Sale or Management Change? Be Prepared, Not Scared!
Time: 1:00 - 1:45 pm
This program aims to empower the Maintenance and Office teams in the maintenance department to effectively prepare for a community sale or management change. It comprehensively covers essential aspects such as team retention, boosting team morale, property maintenance best practices, handling capital projects, supply management, due diligence, and property transition. By equipping the teams with these critical skills and knowledge, they will be better equipped to navigate this transitional period and ensure a smooth and successful process for the entire community.
Objectives:
How to keep your team calm, focused and retained once they are notified of the sale or management change.
What are the maintenance priorities during a due diligence and sale or management change and the difference between the two.
Review the process and average timeline of a sale or management change.
Review best practices for managing maintenance cost and capital projects during this time.
Review best practices for PO management during a transition.
Review questions to ask your supervisor or a new company to be calm and prepared for this time.
Education Tracks: Managers, Maintenance
---
About the Instructors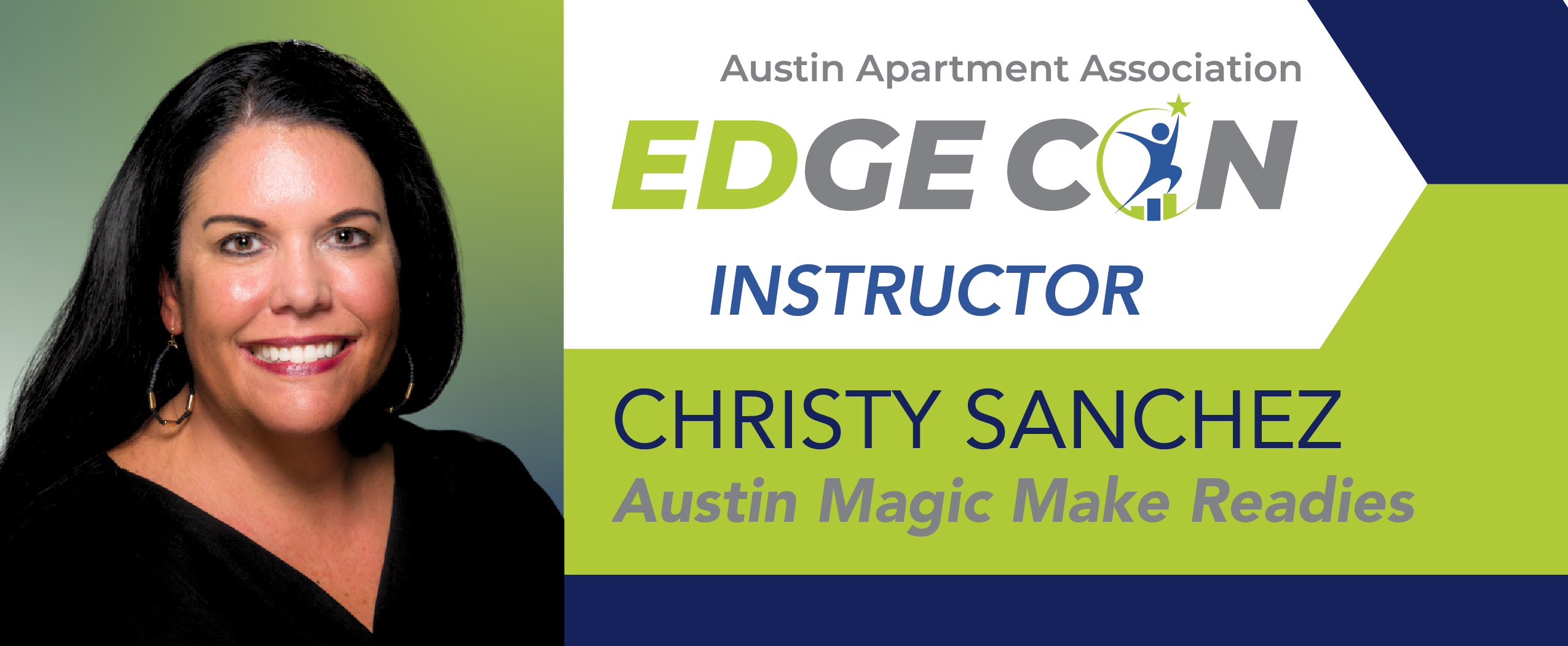 Christy's experience expands across all types of assets with heavy concentration and expertise on A+ multifaceted stabilized and lease-up, renovation and value-add communities as well as retail management on mixed use assets. She holds her CAM and CPM. She is very active in the Austin Apartment Association serving on the Executive Board of Directors and on the National Apartment Association as a delegate.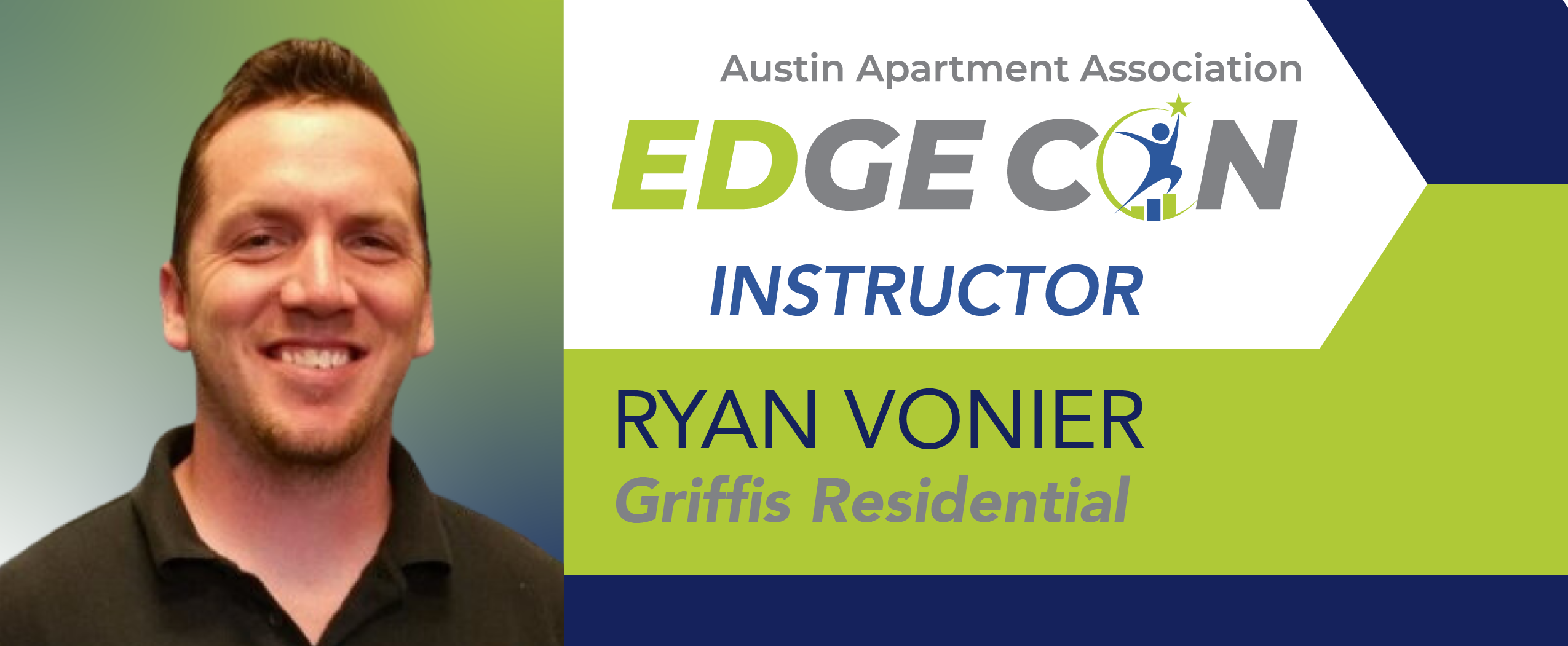 Creating a Culture of Resiliency
Time: 1:00 - 1:45 pm
Most stories about successful leaders involve guiding organizations and teams to overcome significant challenges. They tend not to be stories of success during the best of times, but rather when times are tough. When we look back on where the industry has been over the last dozen+ years, most of what we see is good times. Sure, there have been challenges – especially with the pandemic, but occupancy, rent growth, and transaction prices – three key indicators for our industry – have mostly been strong. Now, as our industry is facing more adversity than it's seen in a while, many of our younger leaders – who were not around for the previous economic downturns – are faced with challenges that are real threats to the viability of the business. What are we doing to prepare them to lead and succeed during these times?
During this session, Stephanie Puryear Helling, CAPS®, CAM®, NAAEI Faculty, will share strategies developed over 25+ years as an operator and as a leadership and change management consultant for becoming a more effective and resilient leader and building a more successful and resilient team.
Objectives:
Trends impacting today's organizations and leaders
Assess the state of yourself and your team
Identify opportunities for improvement
Develop strategies to build team resilience by focusing on your leadership resilience
Education Tracks: Leadership, Regional/Portfolio Supervisors
---
About the Instructor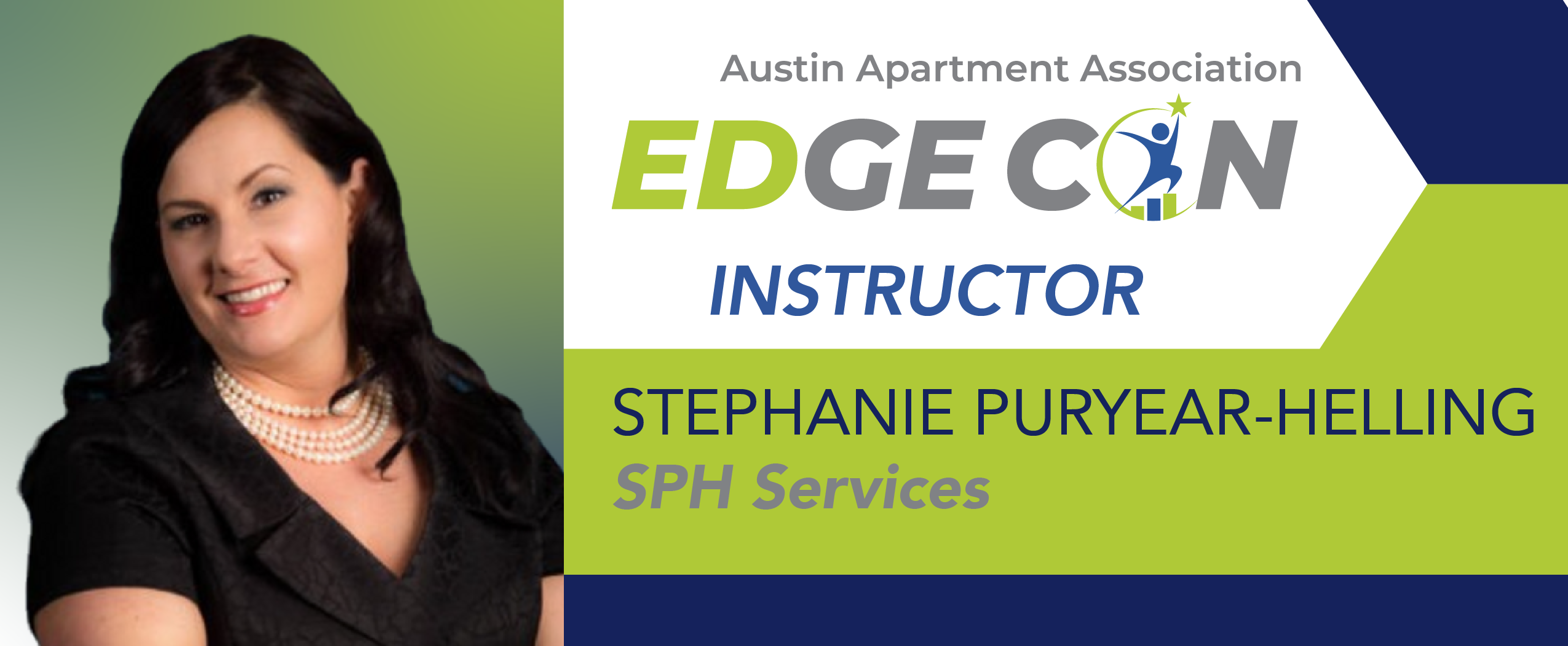 With over 25 years in the multi-family real estate industry, Stephanie has proven to be a reliable and effective executive leader, coach and facilitator, bringing a vision-driven approach to leading people and teams to success. Multi-faceted industry professional with experience in a variety of strategic roles along with a reputation for excellence within the real estate and rental-housing industry and with her clients. Heavily involved in various organizations which has included serving as Past President and on-going Board and Committee Member of the National Apartment Association Education Institute.
Stephanie helps to lead people and teams to success through transformational leadership, change leadership and change management strategies, customer experience and resiliency coaching, consulting, speaking and training.
Stephanie has spoken on stages across the US, has been a guest on various podcasts to include Get Celebritized with Aurea McGarry, Multifamily Leaders with Mindy Price, PropTalk with Elizabeth Francisco, and has interviewed guest such as Jillian Michaels and JT Foxx for her "You Know You Deserve More" Podcast (you can view/listen on YouTube and Spotify). As past President of NAAEI, Stephanie completed 19 interviews during a radio and internet media tour to highlight the benefits of working in the growing residential property management industry. The interviews were five to 10 minutes long and broadcast live and on tape. These interviews aired 1,358 times on radio, with an audience of 47 million. Stephanie has been featured in publications such as New York Weekly, CEO Weekly, and Global Woman Magazine.
Professional Certifications:
John Maxwell Leadership Certified Speaker, Coach and Trainer
Gallup CliftonStrengths Facilitator
Certified DISC Consultant
Change Management, ATD
Advanced Facilitator/NAAEI Faculty
Leadership Lyceum, NAA
CAPS Credential, NAAEI
CAM Credential, NAAEI
Level Up Select Coach
Select Awards Include:
• Apartment Career and Education Industry Practitioner Award, National Apartment Association (2018)
• Multifamily Executive Magazine's Rising Stars Under 40 (2005)
Microsoft Teams - Promote Creativity & Teamwork
Time: 1:00 - 1:45 pm
Microsoft Teams is so much more than just Chats. It is a unified communications platform that elevates collaboration, simplifies communications, and empowers a remote workforce. Learn how to leverage Microsoft Teams as a critical component of your digital transformation strategy, and use this powerful tool to increase employee productivity, innovate faster, and improve collaboration and communication.
Objectives:
Streamlined communications
Decrease emails
Respond faster and improve experiences
Stay in touch anywhere, anytime with the Teams app
Host smarter and more productive meetings
Education Tracks: Leasing, Assistant Manager, Manager, Regional/Portfolio Supervisor, Maintenance, Supplier, Independent Rental Owners
---
About the Instructor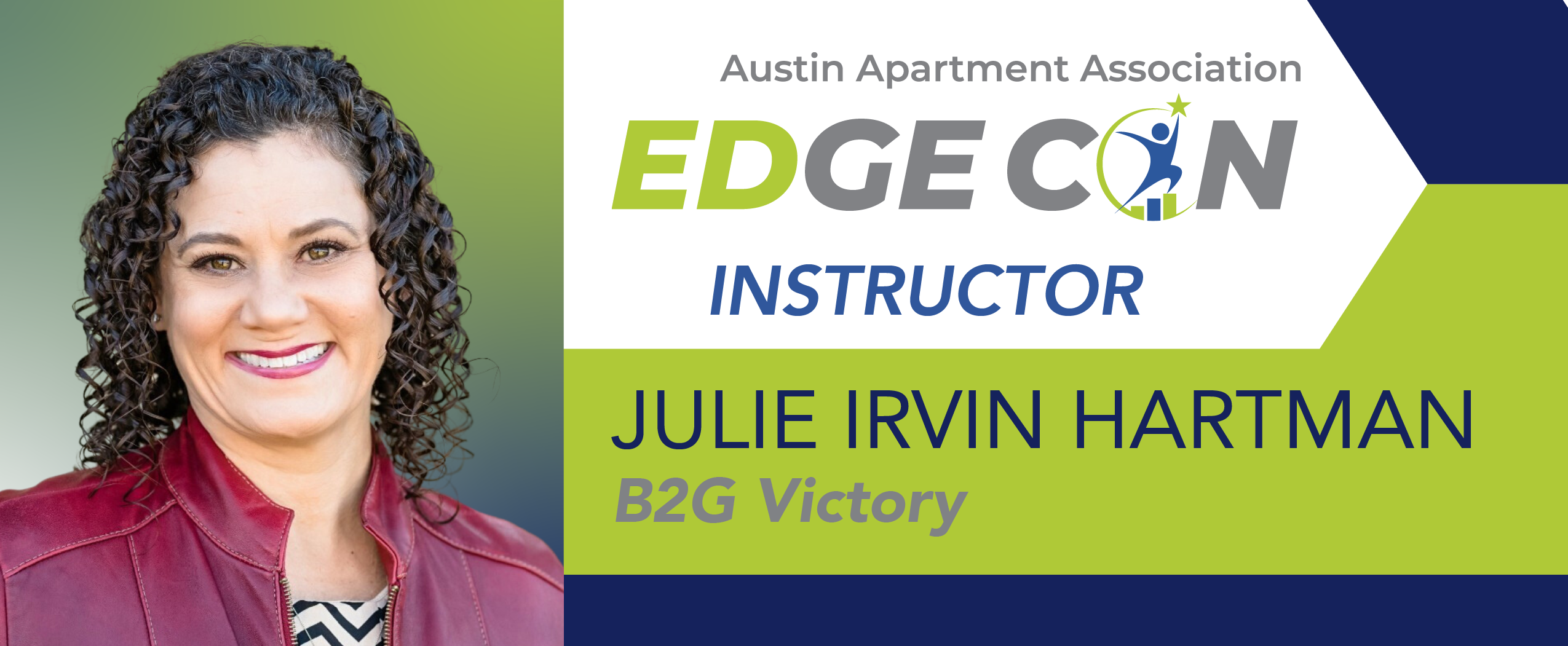 Julie is an award-winning communication and marketing professional with more than 25 years of experience in corporate marketing and internal communications. Her real estate marketing portfolio includes master developers, architects, construction companies, commercial and multi-family projects.

She has led projects for multi million-dollar companies across diverse industries and has a proven ability to execute and manage projects with multiple stakeholders on schedule and within budget.

Julie is a certified trainer, developing education material and leading seminars on a wide range of topics. She is also a frequent and accomplished public speaker at local, state, and national conferences.
Build Your Bench - Investing In & Building a Team Ready for Promotion
Time: 2:00 - 2:45 pm
This program is specifically tailored to empower managers with the essential knowledge and tools needed to develop robust bench strength within their teams. By cultivating a strong bench, managers create ample opportunities for their team members to be promoted, especially within the organization they belong to. With the focus on building a talented and capable pool of individuals, this program ensures managers are equipped to foster growth and advancement for their team members, contributing to the overall success and sustainability of the organization.
Objectives:
When and how to identify suitable candidates for promotion
The necessary skills that it takes for someone to be ready for promotion
The importance of developing those skills before a promotion
How to continue development after promotion
Education Tracks: Manager
---
About the Instructor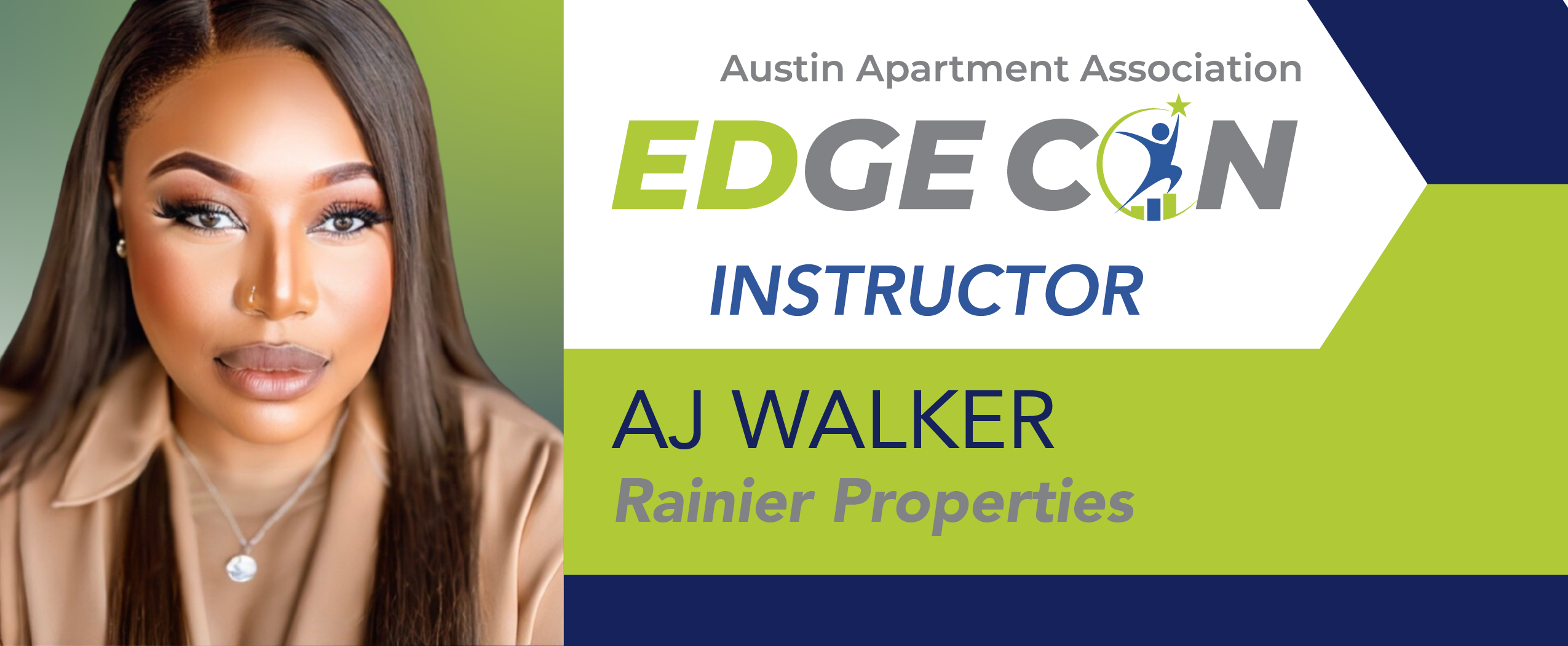 Arjenae Walker, better known as AJ, is a dedicated professional with a strong background in the property management industry spanning over seven years. Beyond her expertise in property management, AJ has a genuine enthusiasm for education and mentorship. She actively engages in professional development opportunities to stay abreast of emerging trends and technologies, ensuring that she is equipped to guide and empower the next wave of managers. By sharing her insights, skills, and experiences, AJ seeks to foster a vibrant community of competent and forward-thinking professionals in the field.
Thriving Together: From Quiet Quitting to Productive Engagement
Time: 2:00 - 2:45 pm
"Quiet quitting"...a worldwide phenomenon with multiple connotations. But what does it truly mean? Join this insightful session designed to equip you with effective strategies that support teams in achieving high levels of productivity while also prioritizing work-life balance. Discover ways to align your leadership style and community culture with the evolving needs of your team members while avoiding the pitfalls of employee disengagement. Whether you are onsite, middle management, or a top executive, investing in your team's well-being starts by getting to the bottom of what's really happening in today's workforce. It's time to take the first step toward becoming the leader your team needs you to be!
Objectives:
Examine the external and internal factors that contribute to employee disengagement.
Understand the impacts employee disengagement has on community and company operations.
Learn simple leadership strategies that ignite team dynamics and unlock the secret to sustained success.
Develop effective communication techniques to foster a culture of open dialogue and feedback, promoting collaboration and increased productivity within the team.
Education Tracks: Leasing, Assistant Manager, Manager, Regional/Portfolio Supervisor, Maintenance, Leadership
---
About the Instructor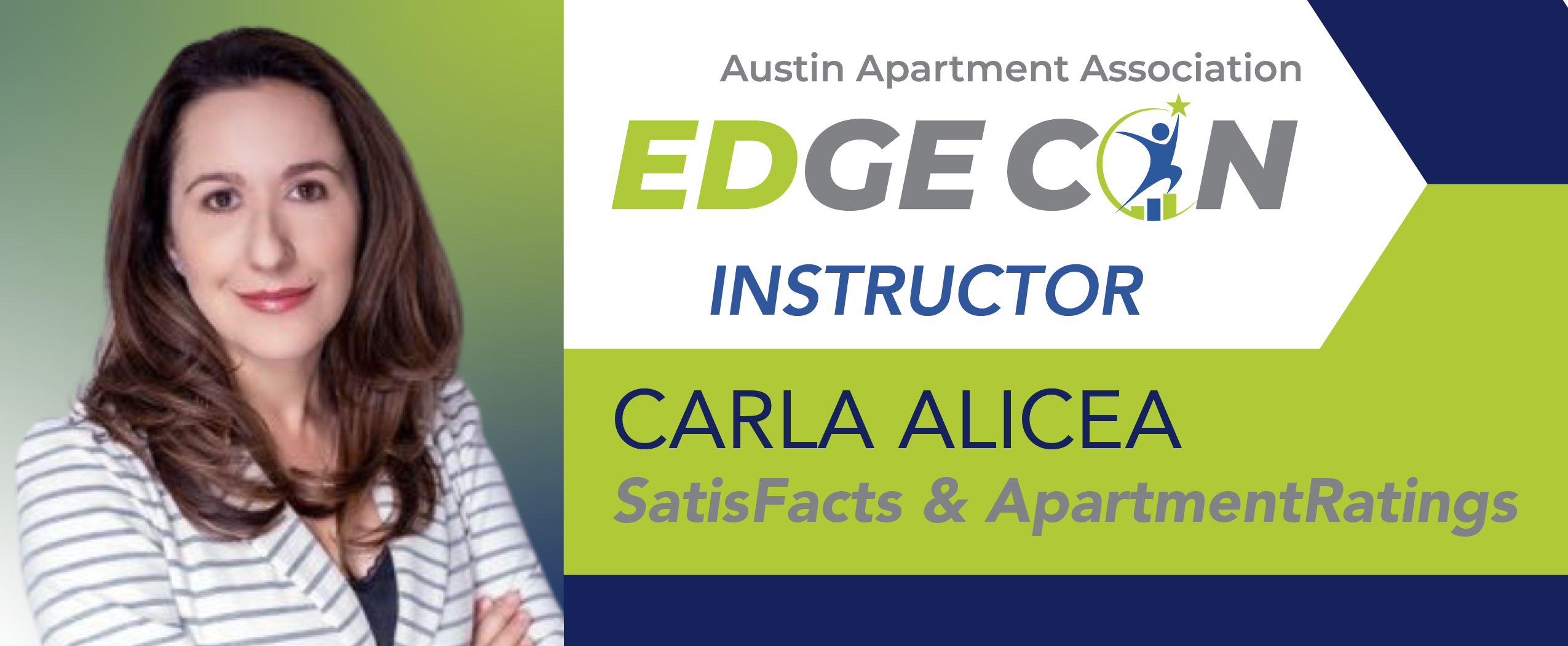 Carla has a 25-year track record of driving measurable results in data-driven marketing and communications strategy. Her innovative thinking has transformed an NMHC Top 50 organization and positioned her as a sought-after expert in the multifamily industry.
As a key member of the education team at Satisfacts, Carla leverages her extensive experience to simplify operational processes and elevate the resident and employee experience for our clients. Her results-oriented approach has made her a game-changer in the industry.
Carla is a distinguished host of the highly acclaimed "Ready, Set…Respond!" monthly webinar series, where she engages with subject matter experts to discuss the most pressing topics affecting the multifamily industry.
An active member of the education committee at the San Antonio Apartment Association, Carla brings a unique and diverse perspective to the multifamily industry. With her unparalleled expertise and contagious passion, Carla is a dynamic speaker who will captivate any audience.
The Evolution of Multifamily Marketing
Time: 2:00 - 2:45 pm
Marketing has evolved over several thousands of years, but never as rapidly as we're seeing today. The multifamily industry is one that has been resistant to change over time, but that is no longer an option in the digital landscape we have today. Our class teaches several different kinds of digital marketing that have evolved over time, and how they apply to the multifamily space. We give tips and tricks on how to better diversify your strategy, and why an omnichannel marketing approach is imperative to your business.
Objectives:
Digital curb appeal (how is your property being perceived online? How do you compare with your comps? How does this affect your sales and performance?)

Online Reputation (protecting your online reputation and using reviews to help not hinder your success)

The renters journey (prospects are now more savvy than ever, are you interacting with them at each step of their journey?)

Lead nurturing (the impact of immediate contact, staff turnover and retention)

Technological advancements (virtual assistance, AI, google, and social media algorithm changes and updates)
Education Tracks: Leasing, Assistant Manager, Manager, Regional/Portfolio Supervisor
---
About the Instructor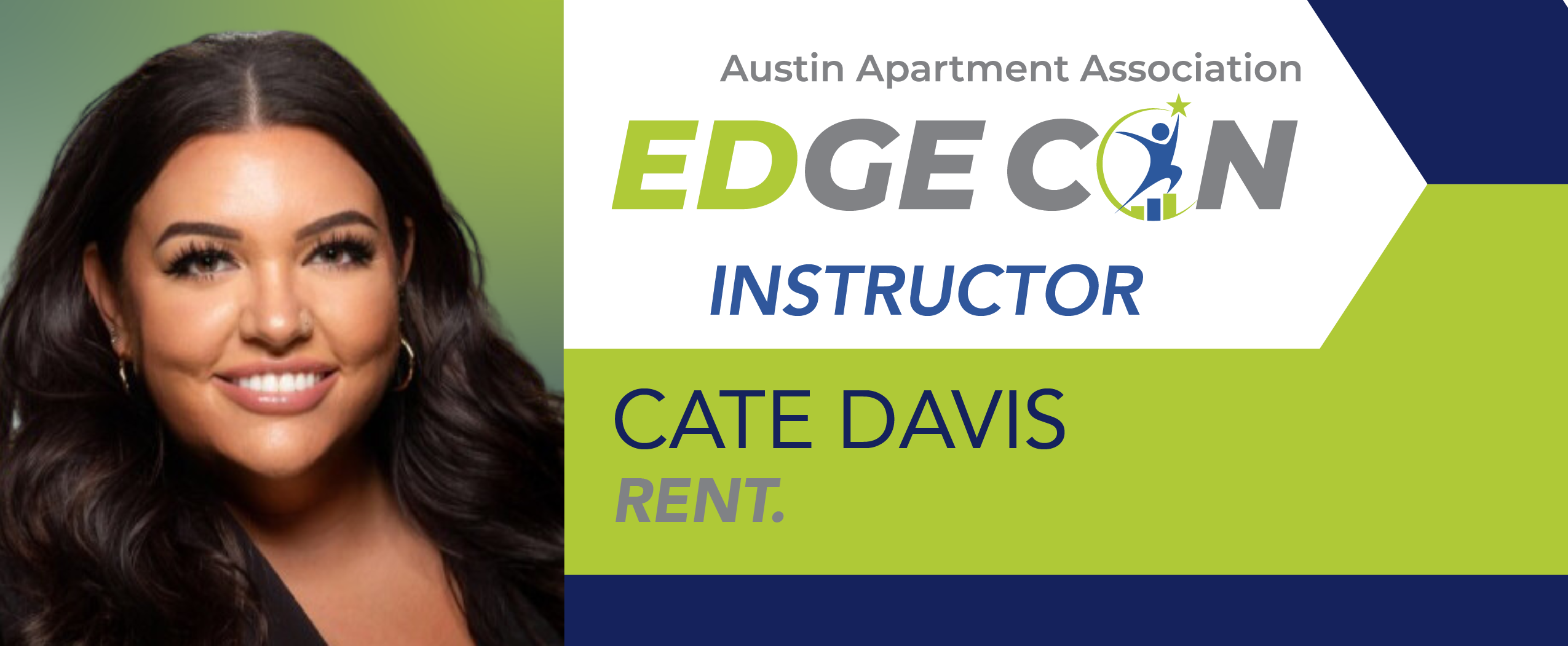 Cate Davis aka "Ms. Multifamily" has 10 years of experience serving the multifamily industry in various roles. Starting her career as a leasing agent, eventually rising up to property manager, she knows what it's like to serve renters, manage budgets, and market properties first-hand. She is passionate about helping property teams get the most out of their marketing efforts and create great experiences that attract and retain happy renters.
Ambush: When Media Show Up On Property
Time: 3:00 - 3:45 pm
When a resident issue makes the news, frontline property staff may unexpectedly face a news crew wanting answers. These first-responder employees are typically instructed not to speak with media but are never trained in how to effectively decline or re-direct media to designated company spokespeople. In their attempts to survive a high-pressure situation, their words and actions can do more harm to the company's reputation, introduce greater risk, and unintentionally contribute to negative perceptions of the multifamily industry - a high cost to all.
Objectives:
Understand the role and job of reporters, and why aaa and property owners work with media

Learn the do's and dont's of media interaction when you are not a designated spokesperson

Gain clarity about effective ways to re-direct reporters while respecting residents

Hear tips about how to work effectively with internal communications and management in the event of an uninvited media visit
Education Tracks: Assistant Manager, Manager
---
About the Instructor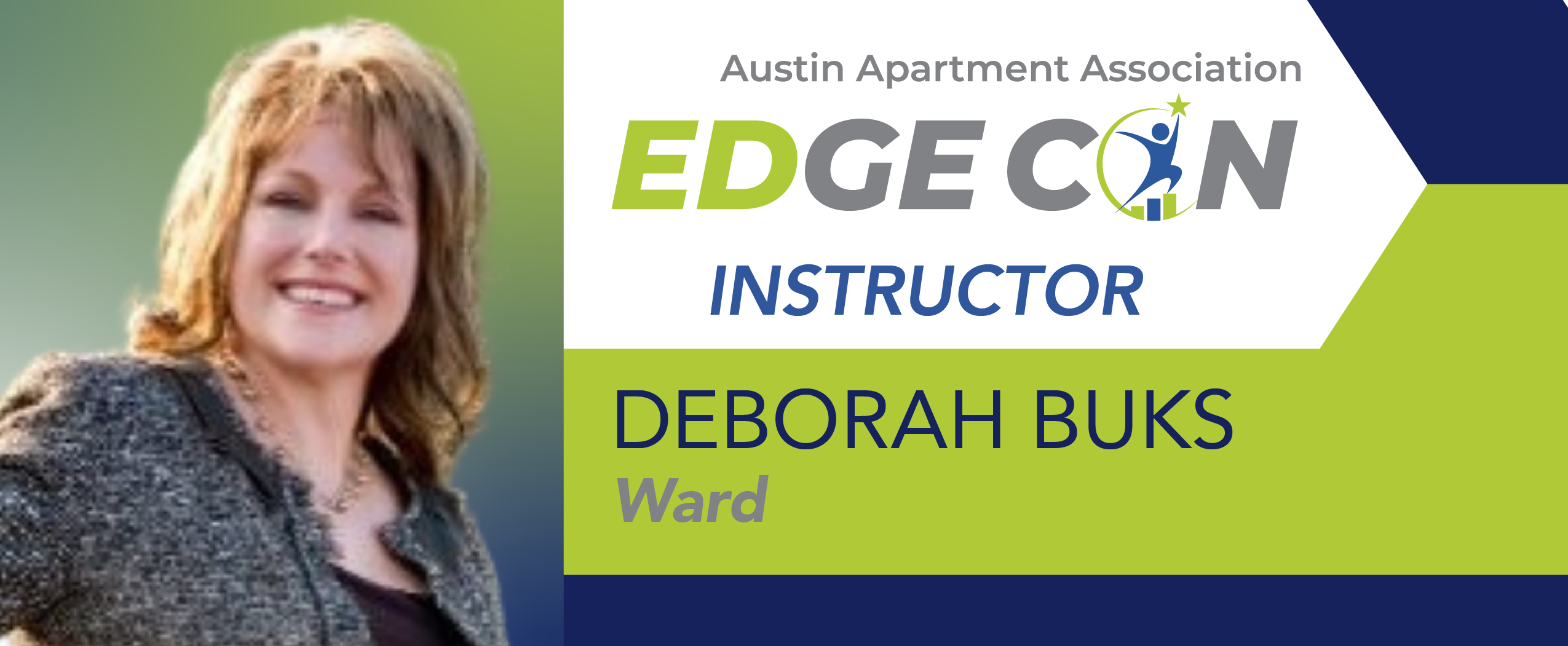 Deborah Buks, owner and president of Houston-based Ward, has worked with TAA, HAA, AAA, SAAA, AAGD and numerous smaller affiliates as well as developers, property owners and property management companies throughout Texas. Her communications firm's 20+ years' experience in multifamily includes media relations strategy, training, and internal and external communication to support new development, promote properties, respond to crises, improve operational effectiveness, enhance resident relations, educate media and regulators about rental housing issues, and recruit talent. She has led numerous Lyceum workshops over the past decade, and consistently receives high scores on trainee evaluations for her real-world, empowering coaching.
Cracking the Performance Code
Time: 3:00 - 3:45 pm
How can you attract, engage and retain top talent in today's competitive market? Understanding what sets top performers apart can be instrumental in shaping your team's culture and communication. Learn what the latest research says about optimizing working conditions, employee expectations, communication, work-life balance and employee satisfaction to enable you to attract and retain the team that will lead to success.
Objectives:
What factors correlate to top performance from employees

The untold story of the importance of growth and advancement opportunities

What is really on the line when having compensation conversations

What the 2023 data tells us is the least liked part of multifamily employees' job responsibilities

How to create an environment where top performers thrive
Education Tracks: Assistant Manager, Manager, Regional/Portfolio Supervisor, Supplier
---
About the Instructor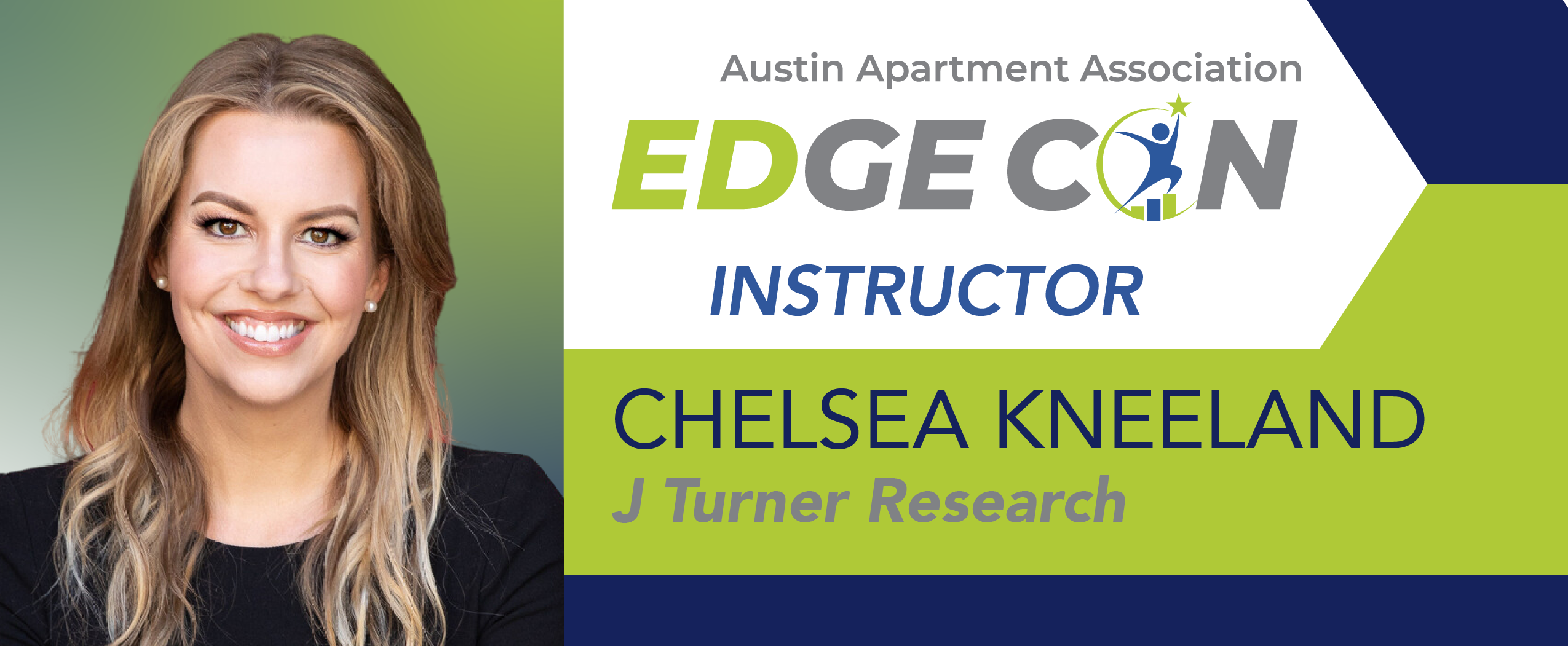 Chelsea Kneeland, a native Texan, brings 20+ years of multifamily experience to her leadership roles. She is the Vice President of Strategic Partnerships for J Turner Research, and prior Senior District Sales Manager at Rent Path, where she led her team to historic wins and was a multi-year president club winner.
Chelsea is a current board member of the Austin Apartment Association, the Emerging insights and Industry Trends committee chair, TAA and NAA Delegate. She serves on the Texas APartmment Association Product Service Council, and is the co-chair for the 2024 TAA One Conference. She is a Certified Apartment Supplier and National Apartment Association Education Institute Faculty.
She lives in Austin, Texas with her husband and two daughters is an avid traveler and enjoys exploring the beautiful hill country outdoors whenever possible.
Charting Your Course: Navigating Unspoken Challenges with Inclusivity in Leadership
Time: 3:00 - 3:45 pm
Overcoming obstacles in the workplace is not uncommon, but for some people in leadership, these challenges can often be unspoken and invisible. From the gender pay gap to the lack of representation in executive positions, often times, people face unique challenges that can hamper their professional growth. However, with perseverance, determination, and the right support system, we are breaking down these barriers and proving that leadership knows no gender, race, sexual orientation or pro-noun. The journey of overcoming these obstacles can be arduous, but the rewards can be game-changing for the individual leader and the workforce as a whole. We also anticipate some short role play/interactive scenarios and audience participation. Our goal is to have everone leaves us feelin like they can conquer the world!
Objectives:
Identifying and recognizing the challenges (lack of experience, gender bias and discrimination, work-life balance, workplace relationships, Imposter Syndrome)

Build a strong network: Networking is a crucial component to advancing one's career. Building relationships with other professionals can help people gain visibility and recognition within their organization. Aspirational leaders should aim to establish contacts both within and outside their industry, and seek out mentorship and sponsorship opportunities. A mentor can offer valuable guidance and support, while a sponsor can advocate on behalf of the leader and provide opportunities for advancement.

Focus on results: People often face an uphill battle when it comes to being taken seriously as leaders. One way to overcome this is by focusing on results. Demonstrating success in key performance areas can help women establish themselves as competent leaders and earn the respect of their colleagues. It's important to set clear goals and track progress towards achieving them.

Seek out professional development opportunities: Continuing education and professional development can help women build skills and knowledge that will make them more effective leaders. This could involve attending industry conferences, taking courses, or seeking out on-the-job training opportunities. Women should also consider seeking out leadership programs that specifically cater to potential leaders to build their confidence and skills.

Communicate effectively: Communication is a critical component of effective leadership. We will practice communicating assertively, without coming across as aggressive or abrasive. We will also work on honing our public speaking skills, and learn how to handle difficult conversations with tact and grace.

Be visible: Finally, we should seek out opportunities to make ourselves visible within the organization. This could involve volunteering for high-profile projects, speaking at company meetings, or seeking out opportunities to represent the organization at industry events. By being visible and demonstrating leadership capabilities, aspiring leaders can position themselves as strong contenders for senior leadership roles.
Education Tracks: Leasing, Assistant Manager, Manager, Regional/Portfolio Supervisor, All leadership roles
---
About the Instructor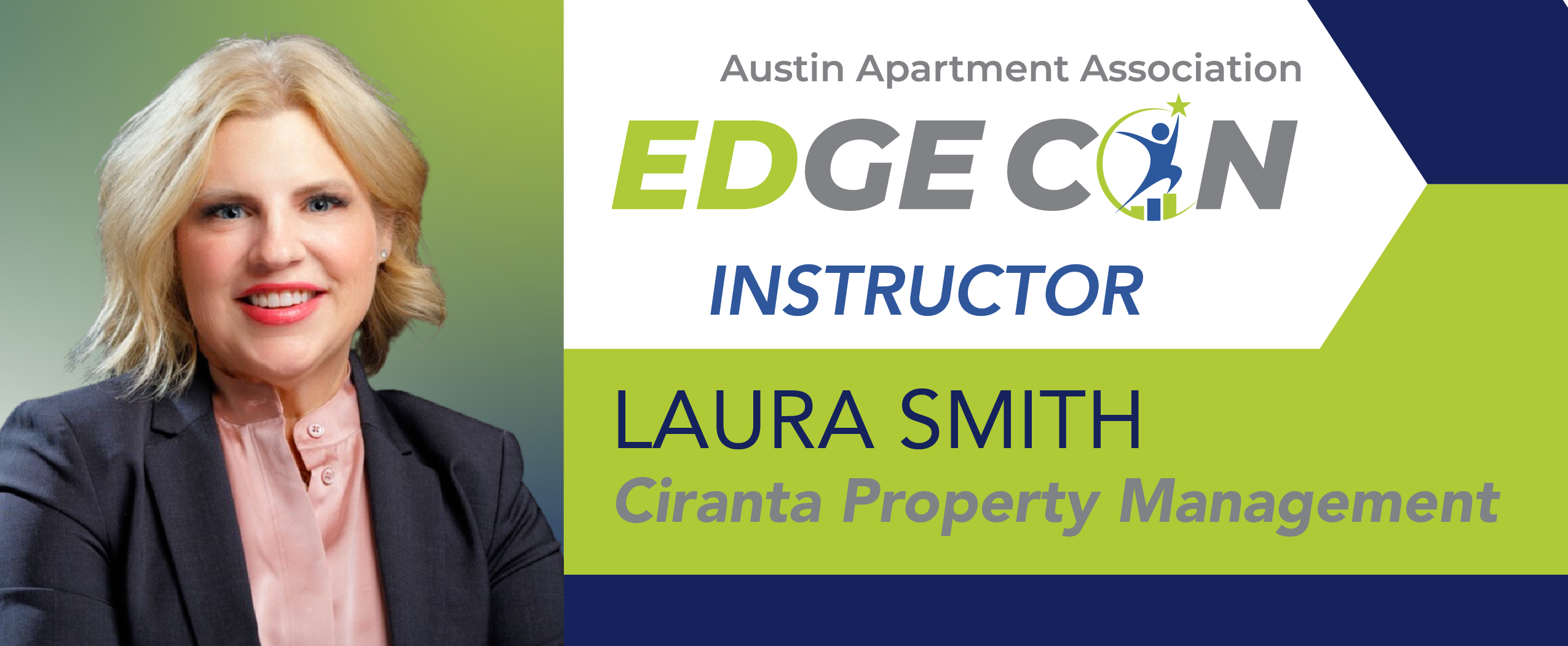 Laura currently serves Ciranta Property Management as President of Operations and comes with over three decades of property management experience. She started her property management career as a part time leasing specialist with First Worthing Company, and has worked for both owner operated and third party management groups, large and small! Most recently, Laura was Executive Vice President for an Austin based multifamily investment and management group, where she was instrumental in growing the management company from 3,000 to 30,000 value-add multifamily units- developing staffing, policy and procedures and operational efficiencies as the company scaled rapidly. Prior to that role, Laura served as Director of Operations for Greystone and Co, overseeing a portfolio of 10,000 multifamily conventional and affordable units across 11 states. Laura specializes in identifying and solving troubled assets and operational solutions that maximize revenue and decrease expenses, resulting in an increase in asset value.
Stay Tuned for More Info!