Natural Disaster & Severe Weather Resources
Resources for rental housing providers and industry members to stay informed, navigate the unexpected, and cope during and after a natural disaster or severe weather event.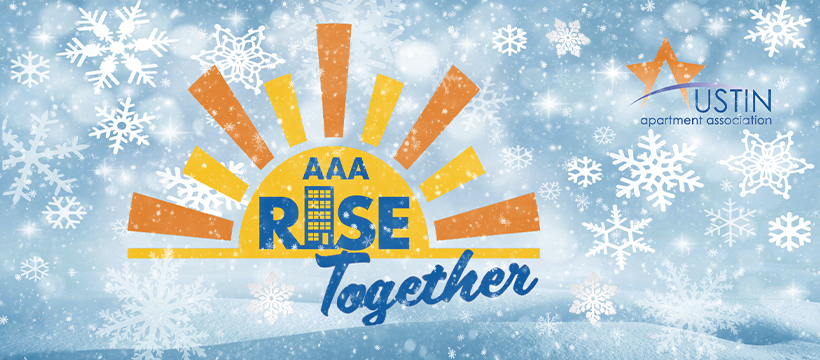 Download City of Austin Cold Weather Information for Landlords, Property Managers
Trusted Member Resources
If you are in need of a vendor for your company or property, consider contacting an AAA supplier member to help during this time. We've created some quick links for frequently requested categories. The entire online AAA Supplier Directory can be found here.
Fire Watch Staffing
If your property is in need of temporary personnel for fire watches, please reach out to our AAA members who provide temporary staffing:
---
Services and resources in surrounding municipalities
---
FEMA Assistance
FEMA assistance available for severe winter storm
The Federal Emergency Management Agency (FEMA) has opened assistance for those who were impacted by the winter severe weather in Travis County.
Residents can apply for assistance in the following ways:
Un

insured

: A

pply online at

http://DisasterAssistance.gov

.

Insured: F

il

e a claim with their insurance company and

then apply to FEMA. FEMA cannot duplicate benefits if you received insurance from your provider first.
Resources for Businesses
Low-interest disaster loans from the U.S. Small Business Administration are available to businesses, homeowners and renters. Call the SBA at 1-800-659-2955 (TTY: 800-877-8339) or visit www.sba.gov/services/disasterassistance.
---
Wellness Checks
With severe weather such as this, it is important we check on our neighbors, especially those who are vulnerable. Social service providers are asking apartment communities to consider performing comprehensive welfare checks as soon as safe travel is possible. Priority for these checks should be given to efficiencies and 1-bedroom units, ensuring residents who are single-member households are seen.
Wellness Check Tips, How-Tos:
If a medical emergency is discovered, please dial 911.
For other situations that may not be best suited for 911, Austin Mutual Aid is a great resource to connect people in emergency situations with needed resources. Click here to sign-up for assistance with emergent requests. Please keep those requests to emergency only to help sustain resources for emergency situations.
Upon checking on residents and a mental health crisis is discovered, contact Integral Care's Psychiatric Emergency Services at (512) 472-4357. Please note: wait times may be lengthy, but the line is continually staffed.
Properties with residents enrolled in community Permanent Supportive Housing and Rapid Rehousing may reach out to ECHO (Ending Community Homelessness Coalition) directly via email here.
---
Fire Watch Reminder from Austin Fire Department

With the severe weather, many fire protection systems throughout Austin have been impacted resulting in many multi-family communities without the life-safety systems that are normally in place. The Fire Marshal's Office wanted to share some information and reminders to help guide property managers during this severe weather event.
In the event that a fire protection system is out of service, the Austin Fire Department requires property management to initiate a fire watch. The fire watch is to remain in place until the system is back up and operating properly the residents are protected. The responding fire crews, upon finding a malfunctioning fire protection system, or one that must be placed out-of-service, will endeavor to locate a responsible person(s) to relay to them the fire watch requirements. During this time of severe weather, there have been several instances where a responsible party is not on-scene and/or is unable to be contacted. Because of the increased demand for 911 services, fire crews have been directed to try their best to locate a property representative and if unsuccessful, then to relay information to residents - but this does not relieve the responsibility for management to provide a fire watch until repairs to the system are complete. The Austin Fire Department Fire Marshal's Office will strive to follow back-up with the property management and/or the alarm technician to ensure repairs have been made and/or provide additional guidance.
Click here to download guidelines to assist with establishing a fire watch.
---
Resident Resources to Share
Click here to download Winter Storm Resources for Austin Area
CLICK HERE FOR OTHER RENTER RESOURCES
---
Forms, Lease, and Other REDBOOK Resources
Visit the TAA online REDBOOK for critical forms, articles, and other resources such as:
Applicable TAA Lease Contract Provisions
Post Disaster Form to Residents
...and other notices Due to Natural Disaster or Catastrophe
REDBOOK Article: Rental Housing Owner's Rights and Legal Responsibilities After a Fire, Natural Disaster, or Other Catastrophe
Refer to the REDBOOK article "Rental Housing Owners' Rights and Legal Responsibilities After a Fire, Natural Disaster, or Other Catastrophe" which outlines some important laws relating to the rights and duties of owners and residents in the wake of a natural disaster such as a hurricane, tornado, flood, fire or other types of catastrophes.

A catastrophe of any type calls for a quick and compassionate response. The more flexibility which can be utilized by landlord and tenant alike will lead to more positive results. Communication is key. Sample notices you may send to your residents after a catastrophe can be found in the REDBOOK are: (emergency post-disaster notice), (termination after disaster), and (affordable housing termination after disaster). As you use these, your understanding of the rights and legal obligations of the respective parties, both before and after a catastrophe, will increase and enable you to reach more effective solutions to the unique problems which the catastrophic events will present you with.
---
IRS Tax Relief: Presidentially Declared Disaster Areas
You may be eligible for a deductible loss on your return as a result of President Biden's Disaster Area Declaration for nearly all of Texas. If you have experienced a property loss you are strongly encouraged to consult with your CPA or the IRS resources page or call the IRS toll-free number for general tax questions at 1-800-829-1040.
Affected taxpayers in a Presidential Disaster Area have the option of claiming disaster-related casualty losses on their federal income tax return for either this year or last year. Claiming the loss on an original or amended return for last year will get the taxpayer an earlier refund, but waiting to claim the loss on this year's return could result in a greater tax saving, depending on other income factors.
Victims of this month's winter storms in Texas will have until June 15, 2021, to file various individual and business tax returns and make tax payments, the Internal Revenue Service announced on Monday, February 22.
This includes 2020 individual and business returns normally due on April 15, as well as various 2020 business returns due on March 15. Among other things, this also means that affected taxpayers will have until June 15 to make 2020 IRA contributions.
Publication 584-B, Business Casualty, Disaster and Theft Loss Workbook
---
Debris Clean-Up and Removal: 1-800-329-8052
Residents in Bastrop, Hays, Travis, & Williamson Counties can call the "Crisis Clean Up" line to request assistance cleaning up their home and/or storm debris.
Line hours: Mon.-Sat. 9am-8pm + Sun. 1pm-6pm
Register for assistance through this number until Tuesday, March 2.
---
Disaster Preparedness Resources
Resources from the Texas Apartment Association
Preparing Your Apartment Community for Winter Weather includes valuable resources that can help members before, during, and after this type of emergency. This guide contains several sections including:
Plan Ahead – General Emergency Checklist
Gather Supplies – Supply Checklist
Communicate – Resident & Media Relations Checklist
Severe Winter Storms – Severe Winter Weather Checklist
Stay Safe – After the Severe Winter Storm Checklist
We recommend you follow your company's emergency procedures first and foremost. These tips are intended to supplement and reinforce your company's emergency guidelines.