Back to Events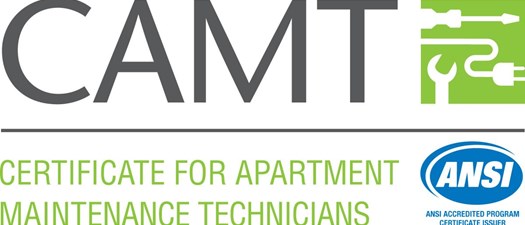 CAMT (Spanish) January 2023
CAMT boosts your knowledge and skills,
your reputation, & your confidence
Monday, January 16, 2023
at
9:00 AM (CST)
to Friday, January 20, 2023 at 4:30 PM (CST)
Event Details
Instructor for Spanish CAMT: Julio Herrera
Maintenance expenses are the single largest controllable element in any operating budget. This course is designed as an introduction for new maintenance professionals or as a refresher for the veteran employee, to give these professionals the knowledge and tools necessary to run an effective maintenance program.
YOU'LL LEARN ABOUT:
• Processing work orders efficiently and to
residents' satisfaction
• Electrical, plumbing, HVAC, mechanical,
appliance, construction, and lock and key
services and repairs
• Painting services
• Customer service
• Following company policy and procedures
• Minimizing personal and property damage
• Maintenance safety
• Fair housing regulatory compliance
• Environmental responsibility and
regulatory compliance
• Documenting and reporting maintenance
activities in compliance with company
policy and regulation
• Curb appeal, property inspection, and daily
maintenance
• Maintaining recreational facilities and
common areas
• Implementing a preventive maintenance
schedule
• Product repair and replacement decisions
• Professional behavior, communication
skills, and personal appearance
COURSE GOOD FOR FOLLOWING EDUCATION TRACKS:

For More Information:
Tatiana Marchizano
Director of Education
Austin Apartment Association
(512)323-0990
2023 (Spanish) Course dates: 
January 16-20 2023 from 9:00am-4:30pm CDT
Must attend all dates  (In-Person)
Interior & Exterior Maintenance Repair
Electrical Maintenance and Repair
Plumbing Maintenance and Repair
Heating/Air Conditioning and Repair
Appliance Maintenance and Repair
The price is $950 for members, $1,112 for non-members
Registration and payment are required prior to class start.
To register please complete this form and return it to
ezolotukhina@naahq.org
Please use the Spanish form, the CAMT (English) December class is cancelled.
NAAEI Refund Policy
Absolutely no refunds will be issued. If for any reason you cannot attend the course, you or your company may send someone in your
place. If you choose to drop the class and cannot replace your seat, you may receive a credit towards another National Training course
Thank you to our Education Sponsors!
Titanium Sponsor